Molasses Taffy
1 cup molasses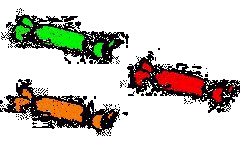 1 cup pure maple syrup or 1 cup unrefined sugar
2 teaspoons of lemon juice
1/8 teaspoon salt
1 tablespoon butter
4-6 drops oil of peppermint
Put all ingredients, except peppermint, in a 2 or 3 quart heavy-bottomed saucepan.

Without stirring, slowly heat mixture to 260 degrees. YOU WILL NEED A CANDY THERMOMETER.

Meanwhile lightly butter a shallow dish.

Spread out a large sheet of wax paper on counter or table.

When syrup mixture reaches 260 degrees, pour into buttered dish without stirring.

Let syrup cool until it can be handled without burning hands. This takes 15-20 minutes.

Fold in peppermint drops.

Take taffy and begin pulling and stretching it like a rope then fold it back on itself. Keep repeating this motion.

The mass will change to a crystal ribbon.

At this point, start twisting the rope while folding and pulling.

This pulling action takes strong muscles. Pieces of taffy can be broken off and several people can help pull. DON'T STOP PULLING OR TAFFY WILL SEIZE UP!

Pull until the ridges on the twist begin to hold their shape.

Set taffy rope on wax paper and with a sharp knife strike the rope, breaking it into bite size pieces.

Immediately wrap the pieces in wax paper, twisted at both ends. It is important to wrap promptly, as the taffy collects moisture.
Tip: This recipe makes a chewy candy. For a harder candy, bring mixture up to 270 degrees.