Apple pie
Makes one 9-inch pie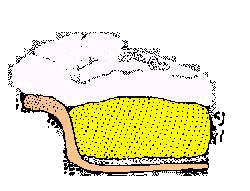 1 1/4 cups whole wheat pastry flour
1/4 cup (1/2 stick) unsalted butter, cut into bits
4 to 5 tablespoons ice water
8 medium-small apples
3/4 cup maple syrup
1 teaspoon cinnamon
1 1/2 tablespoons arrowroot powder or cornstarch
1/4 cup water
1/2 teaspoon vanilla
1 egg yoke
Combine 1 1/4 cups flour and 1/4 cup butter.

Add the water, 1 tablespoon at a time. Mixing constantly until the dough holds together as a mass.

Roll into a circle and pat into 9" pie pan.

Peel and core 8 medium-small apples.

Slice and set aside.

Bring 3/4 cup maple syrup and 1 teaspoon cinnamon to simmer in saucepan.

Dissolve 1 1/2 tablespoons arrowroot or cornstarch in 1/4 cup water and add to maple mixture stirring constantly until thickened.

Remove from heat if using arrowroot. Simmer an extra minute if using cornstarch to remove starchy taste.

Stir in 1/2 teaspoon vanilla.

Add sliced apples.

Mix.

Turn oven to 375 degrees.

Scoop apple mixture into pastry lined pie pan.

Roll out second crust and lay over the pie mixture.

Pinch sides.

Cut slits in the top and lightly brush with egg yoke.

Place pie on cookie sheet

Place in oven.

Bake for 50-60 minutes or until pie is light brown.

Remove pie from oven and turn off heat.