Let's go eat
By Brooke Revere, age 18, 1997
Four friends, June, Ellen, Bob and Arthur, decided to go out to dinner together. June said that she knew of a great restaurant, and she would treat.

"I only eat raw foods," Ellen exclaimed in dismay.
"I'm a vegetarian," said Arthur regretfully.
"Don't worry about me," said Bob. "I'll eat anything!"
"Well," June interrupted, "This restaurant has a wide range of foods. It will have something for everyone. I am a diabetic, meaning I can't eat sugar, and I eat there all the time."
The four friends went to dinner and ate a very large meal. Below is their order. Can you tell by it who ordered what?
Hog Heaven Restaurant
Order # 1 belongs to ___________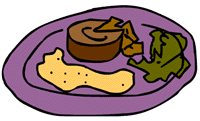 Extra large veggie salad w/ lettuce, tomatoes, broccoli, onions & green peppers
12 oz bottle grapefruit juice
2 chocolate chip cookies
Order #2 belongs to ____________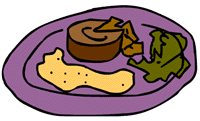 Spaghetti w/meat balls
Garlic bread
Small green salad
Ice water
Apple pie
Order # 3 belongs to ____________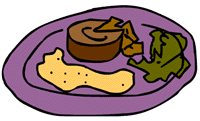 Small veggie salad w/lettuce, tomatoes & green peppers
Sushi
Glass carrot juice
Fresh strawberries w/honey
Order #4 belongs to ____________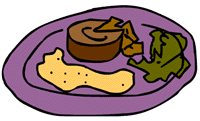 Bowl of chicken noodle soup
Basket of rye crackers
Answers: Mouse over each dinner plate